It started before the sun even came up.
The QLCS from the night before continued to march eastward. Tornado warnings extended from N Central Alabama to middle TN. The tornadoes and strong winds that came from the morning system would cut off power to thousands.
We had a break for a couple of hours. In fact, in our area, there was already an attempt to begin clean up in the Tiftonia/Red Bank/Harrison area from those tornadoes. We had lost power at work, and they sent us home.
Then, I remember watching this.... just jaw dropping. All of these tornadoes were just insane to watch.
Cullman, AL tornado as covered by ABC 33/40:
Then, of course, the tragedy in Tuscaloosa as covered by ABC 33/40:
Storm Chaser John Brown's now famous footage:
The Tuscaloosa and the Cullman tornadoes were unlike anything I have ever seen. The crazy horizontal vortices....
I just know at some point, we just decided to stay in our basement and not come up. hahaha.. So many tornado warnings.
Around 8:20pm, we were placed under a tornado warning in my county. Sitting in the basement, little did we know only about a couple of miles away this was happening..
A good portion of Ringgold Middle School was destroyed as well as some of the high school, including the baseball field and the football field where I watched my niece march in band and my hubby played football. Here is a local story on how Ringgold Baseball has recovered:
www.newschannel9.com/sports/features/hea...stories/vid_84.shtml
SPC Outlook and overlay of reports: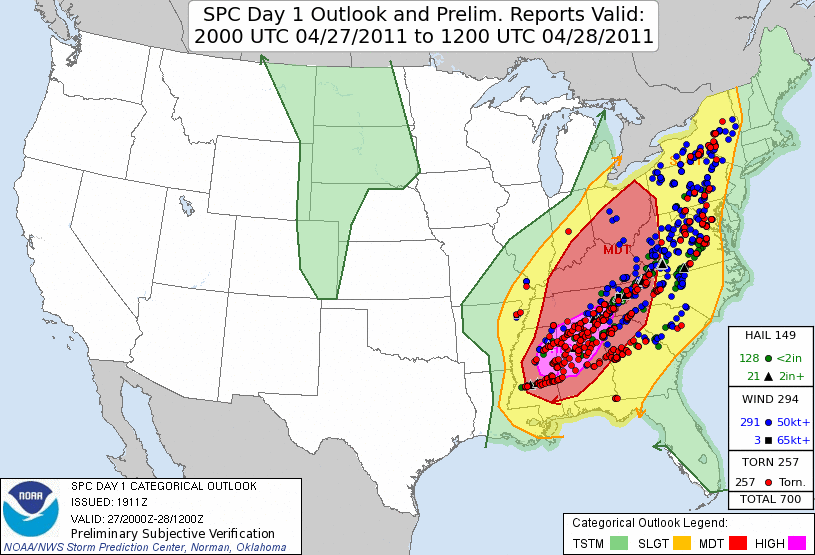 And on this day.. I'm going to remember those who lost so much one year ago today and count my every blessing.